Virtual Auction of "Ape-Stract" Art
for AMC's Tarzan Adventure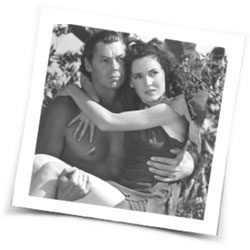 Tarzan. He's that free-swingin' jungle king that all little boys and grown men secretly yearn to be, a powerful yet chivalrous protector that many a fantasy-prone female would love to be swept away by. But when it comes to the dozens of movies he's starred in over the years… well, we're not exactly talking about Tinsel Town's most acclaimed product.
Execs from American Movie Classics were seeking a promotional strategy for Tarzan Adventure, a three-day marathon of 32 movies produced between 1918 and 1968. They once again came to Cataldi PR for an out-of-the-box angle that would make this vintage slice of Hollywood cool, contemporary front-page news.
Digging Deep Into Trivia for A Solution
We started this project like we always do — with exhaustive research. We discovered that Tarzan was a powerful, albeit largely underground cultural phenomenon. Edgar Rice Burroughs' famed character launched over 90 books, 40 movies, three TV series, comics, websites, a city (Tarzana) and an avalanche of merchandise, from tennis shoes to trading cards. The most interesting trivia revolved around the people who made the movies: the Tarzan who was "discovered" while fighting a New York City fire; the silent-era Tarzan who was killed by an elephant while making his film; why Sean Connery backed out of the role (to play James Bond instead).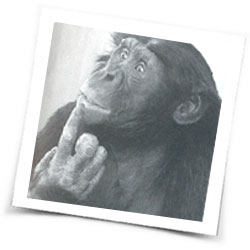 The most jaw-dropping fact by far regarded Jiggs#3. The chimp that played "Cheetah" in the Johnny Weissmuller classics of the 40s was not only alive and well, but like so many other former actors, comfortably retired in Palm Springs. And like Anthony Quinn, Tony Bennett and the like, Jiggs was another senior celeb that had taken to oil painting! Together with his recently-deceased sister Suzie, Jiggs had produced over 100 vibrant abstracts, or "Ape-Stracts" – some of which had been shown at the National Gallery in London, alongside the work of Peter Blake, the Pop Art pioneer who crafted the cover for the Beatles' "Sgt. Pepper's Lonely Hearts Club Band."
Whereas other agencies might've dismissed Jiggs' painting as merely a humorous curiosity, we at Cataldi Public Relations saw PR gold – a "Ripley's Believe It or Not"- class oddity that could be used to draw attention to the overall festival. To give this strange but true fact publicity legs, we convinced AMC to let us create an online web gallery and auction of Jiggs' work at www.amctv.com, with a portion of the proceeds going to a charity designed to protect jungle habitats.
How Do You Like Them Bananas?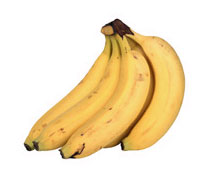 To assure maximum impact, we gave the Jiggs' story to that much-copied repository of celebrity dish and antics, The New York Post's "Page Six." The gossip column's persnickety editor, Richard Johnson, was so happy to have the "exclusive" that he included a photo of the Simian Picasso. According to Johnson, it was the first time a picture of an animal had graced his column!
The "Page Six" break begat a media frenzy. Soon Howard Stern, David Letterman and Live with Regis & Kathy Lee were all devoting segments to Jiggs, AMC's auction and the Tarzan film marathon. Entertainment Tonight, E!, CNN, Newsweek, New York Magazine and many other major media outlets seized on the story. The auction was a great success, generating more press, phenomenal traffic at AMC's website and over $25,000 from the sales of seven pieces of Jiggs' handiwork.
Making Something Old, Sexy & Relevant Again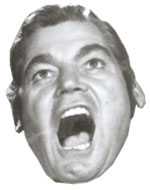 To achieve the main objective of the program, viewership, we then unleashed our festival story to hundreds of reporters at daily newspapers, magazines, radio and TV stations across the nation. It was supported by a leopard-skin press kit, containing extensive bios on all the Tarzans, Janes and Cheetahs, as well as offbeat trivia facts sheets and lusty pictures of more than 20 Tarzans and Janes.
Several ex-Tarzans and Janes, including Denny Miller and the reclusive Maureen O'Sullivan, were enlisted to speak with dozens of reporters about the timeless appeal of the Tarzan film franchise. The overstuffed press kit of trivia served to "blow out" the scale of the coverage, generating full-page features in most cases, complete with "sidebars" dedicated to the character bios, Jiggs' history, etc. in leading newspapers like The New York Times, LA Times, Chicago Tribune and USA TODAY. A full-page rave in Time Magazine's annual "Cool Issue" proclaimed AMC's Tarzan Adventure "the most anticipated TV event of the summer."
Our offbeat approach also gained placements in media that did not traditionally carry AMC news. These ranged from women's magazines like Elle and Cosmopolitan to leading Gay media like Out and The Advocate. Both picked up on the beefcake gallery of Tarzan portraits strategically selected for our press kit.
In the end, our massive publicity blitz helped AMC greatly exceed expectations, turning something that would normally have been a curiosity embraced by a small cult of film geeks into "must see" for a broader audience. The festival drew excellent ratings over the three days, especially with the younger demographic. Its success led to AMC's creating a weekly strand dedicated to Tarzan movies.