AMC's U-Be-Duke Contest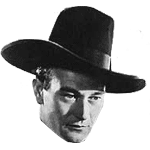 It's the one impression that everyone thinks they can do — the tough-guy, molasses drawl and lumbering, action-man stroll of that King of Cowboys, the ultimate personification of celluloid macho, John "the Duke" Wayne. 
As a way to promote a festival of Duke Double-Features airing on American Movie Classics, Cataldi PR created a kitschy contest that gave Wayne fanatics everywhere the chance to show off their mimicry skills on home video.  The decidedly offbeat grand prize for the King of the Faux Dukes: a pair of cowboy boots made by Wayne's own boot maker and a trip to a dude ranch to learn the other three Rs — roping, riding and rustling.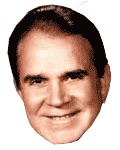 As a creative way to provide contest rules, we created a toll-free number: 1-800-U-BE-DUKE.  The thousands who called in the weeks following the contest's launch were greeted by no less than America's favorite impressionist — Rich Little — giving a four-point, how-to in Duke speak, along with the entry protocol.  The publicity blitz coordinated to announce the contest yielded stories in hundreds of dailies, including USA TODAY, and broadcast outlets like Entertainment Tonight.  We also initiated a partnership with Westwood One Radio, which brought contest spots into millions of homes.
More than 1,000 men, women and children (and even a household pet or two) submitted their Duke impressions. The submissions ran the gamut from crude, off-the-mark attempts shot in dark basements to full-blown, broadcast-quality productions, with rented horses, sets and extras. A panel including Rich Little, actor Harry Carey, Jr. (Wayne sidekick in numerous Westerns) and Duke's son, Patrick Wayne, judged the 10 best entries.

A fortuitous twist was the unlikely winner they selected, Mario Serrano, a Brooklyn-native of Puerto Rican descent who worked as a professional masseur.  A natural born ham and aspiring impressionist, Serrano was ideal for a national publicity blitz, especially television appearances.   
Serrano and a b-roll of classic Wayne film clips and contest entries (the good, the bad and the really terrible) made the rounds of national television shows like Extra, CNN Showbiz Today, Entertainment Tonight and FX Network and every local news broadcast in New York City.  With his incredible vocal talent, Serrano was a natural for Howard Stern and dozens of other morning radio shows across America.  Extensive print features appeared in everything from The New York Daily News to Entertainment Weekly to El Diaro.    
Most importantly, the publicity generated by the stunt had a direct impact on ratings, earning the network its highest-ever numbers for a Wayne festival.